Podopostural therapy
Who does not know the Tower of Pisa? The free-standing bell tower is one of the most striking buildings of Piazza dei Miracoli. Shortly after starting the construction (1173) the tower began to slant. Because one continued to build perpendicularly, the tower is not only skewed but also curved. Today, they know better: a solid foundation is required. Not only for buildings, but also to human's stance and gait'.
What is Podopostural Therapy?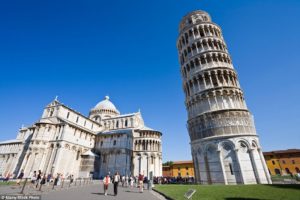 When a table or chair wobbles, most of us will stop this by laying something under (one of the) legs. Also the podopostural therapist does. After anamnesis, a postural examination and a gait analysis, the therapist provides the patient with a pair of flat, individual insoles, on which slices of cork, 1 à 3 mm thin, are pasted. Walking and standing on these (shoe) insoles is the therapy! These insoles do not support the foot but activate the intrinsic foot muscles instead. Most of these intrinsic muscles (21) are found at the plantar side of the feet! This therapy has practice based proven to be effective more than 40 years.