Introduction: Peter W.B. Oomens, posturologist and manual therapist. 
Neuro-posturology is based on and related to podopostural therapy: meaning postural correction of a patient. By adjusting his individual balance from the feet (the basis) and prescribing personal thin insoles (neurophysiological basis). Just like balancing a chair or table.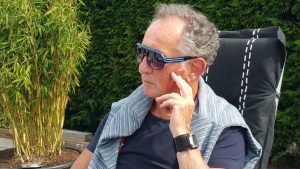 A proven effective and logic treatment,  which I practised at  Doorn (Netherlands). Many of my patients suffered from (low) back pain and other posture related complaints. Further, I have been several years president of the Dutch professional association.
What is posturology?
A multidisciplinary approach both in diagnosis and treatment. Meaning that a practitioner, in consultation with the patient, can cooperate with (an)other discipline(s). This requires willingness of practitioners, in the interest of the patient, to look beyond their own boundaries.
At the moment I am doing literature research on posturology about the many systems, for example (RELATIONSHIPVISIONPOSTURE), influencing the posture. But also the stomatognathic relationship between posture and jaw occlusion. Our body knows many of these cooperating, interactive systems.
https://www.posturology.nl/wp-content/uploads/2018/03/Current-Pedorthics.pdf