how to sit with less or no low back pain
Long before doctors, scientists and other experts even started to think about human sitting, people already knew by themselves 'how to sit': the squat position.
Still today a great part of the world population is sitting this way, goes to the (squat) toilet and gives birth this way. Even now you can find those special squat toilets in France and other places. This natural way of sitting however is not possible behind an office desk, at school and university. Travelling this way is not an option. Why then this example?
Look at the picture. When you are flexible enough, try to sit this way. The feet flat on the floor and you may lean against the wall. Notice that your lower back is then convex and your pelvis tilts forward. Now, sit on a sturdy (kitchen)chair but do not correct: the lower back then tends to convexity. In the beginning this might feel relaxed but then it becomes fatiguing. Also breathing  becomes more difficult. Automatically you will try then to sit more upright. Unfortunately, also this  is tiring after some time.
Conclusion: we are not 'built' to sit this way … there must be an alternative … and there is!!
I called it 'in between'  
Slide forward (translation) on a sturdy office chair until you feel a kind of 'locking'. You then sit on your 'sitting' bones,  halfway the chair and without backrest. Your pelvis is stabilized, you feel some more pressure under these bones. Once you got the right position: relax shoulders and muscles of the back. The feet rest flat on the floor. If you do this the right way you can sit upright without the need of back rest and an overload of muscle energy. This way of sitting is called:
Active sitting.
(be sure that the chair can not roll away and that you do not sit too much in front of it!!). Sitting this way relaxes the abdominal and dorsal muscles and allows us to breathe properly. Look in whatever office how people sit ……
In 2012 I visited a known factory of quality office furniture in Germany. Sitting is their philosophy. Although they found my ideas interesting, they preferred to continue their own. I suggested  a short tour to their offices. Almost all employees used their own quality chairs… on which almost
all were sitting in the active way without using the backrest!
Peter W.B. Oomens (Research on Posturology)
N B   binnen mijn praktijk podoposturale therapie bleef ik zoeken naar 'logische'  oplossingen voor mijn patiënten met rug- en houdingsklachten. Zitten bleef lang een probleem, zeker wanneer je van de huidige inzichten uitgaat.
Zelfs met een professionele stoel (wat is dat?) is het zitten een kwestie van spieractiviteit. Spieren bekken/heupen, buikspieren en lage rugspieren moeten de 'ergonomie' van de stoelen ondersteunen. En dan nog …
Mijn conclusie was even eenvoudig als effectief: 'halfway locked' gezeten kán het bekken  niet voor- en achterover kantelen en is relatief minimale spierspanning vereist. 
Lange tijd heb ik een zitkussen via mijn praktijk geleverd. Zo op het oog lijkt het op het bekende wigvormige kussen. Lijkt, want schijn bedriegt…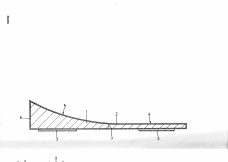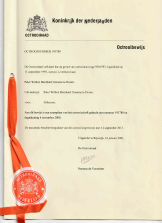 Tot slot: op dit kussen heeft patent gerust, wat inmiddels is verlopen. Het mag dus gekopieerd worden.
let eens op hoe vaak mensen naar voren schuiven om rechtop te kunnen zitten met zo min mogelijk spierspanning, op een bureaustoel maar ook een zitkamerbank…